Who ever knew that Chrysanthemums could be eaten? Well, in fact, Chrysanthemum is a leafy vegetable that is eaten quite regularly in Asia. It possesses a very distinct and special scent that is great with rice and soups. This particular dish is great as a side or even as a main if paired with a protein.
This dish isn't just any normal vegetarian fried rice. Chrysanthemum adds a unique flavor that pairs well with bamboo shoots and dried mushrooms. Trust us–it's a family favorite! We like to chop the Chrysanthemum greens really fine and stir-fry it with rice — it is delicious and easy to make, and it packs a surprising amount of flavor in each bite!
Chrysanthemum is called Tonghao (茼蒿) in Chinese, also known as edible chrysanthemum or crown daisy in English. There are two kinds of Chrysanthemum: one with larger leaves and another with smaller leaves. The larger leaf kind is preferred due to its stronger scent. The plant is rich in minerals and vitamins, and various antioxidants (the picture on the right is taken from the web). Chrysanthemum as well as most of the other ingredients in this recipe can be easily found in a local Asian supermarket or grocer.
Bon appetit!
Ivy and Min
Ingredients 
1 pound Chrysanthemum greens, preferably large leafed
3 dehydrated mushrooms (soaked in water beforehand for an hour until expanded)
2 cups of refrigerated rice, made from previous day*
1/2 cup bamboo shoots
3 tbsp of pickled mustard (optional, but strongly recommended)
3 slices of fresh ginger
2 tbsp of vegetable oil
1/2 teaspoon of salt
2 pinches of pepper
1/2 teaspoon of rice vinegar
Steps 
1. Wash the chrysanthemum greens well and cut off the hard stems of the plant.
2. In a pot of boiling water, add the chrysanthemum greens and cook for about 1 minute.
3. Transfer the chrysanthemum greens into another bowl and shock with cold water to stop it from cooking.
4. Squeeze out the water in the greens with your hands, and chop finely.
5. Mince the mushroom, bamboo shoots, pickled mustard and ginger very finely.
6. Heat the rice in microwave on high for about 2 minutes.
7. Set up a pan on high heat. Add the oil, mushroom, bamboo shoots, pickled mustard and ginger. Sauté for about 1 minute.
8. Add in the rice and stir well, combining all of the ingredients together. Flavor with salt, pepper, and rice vinegar.
9. As soon as the rice no longer clumps together, add in the chrysanthemum greens and stir well. Add the rest of the salt and pepper to flavor to your taste.
10. Serve immediately and enjoy!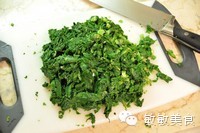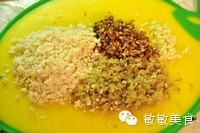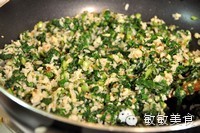 Tips
*Hard rice made from the previous day and refrigerated over night is actually preferred for making fried rice. Brown rice is also a good candidate for a nuttier, healthy version of this dish. Be sure to heat up the rice in the microwave before putting it in the pan so that it is easier to sauté.
1. Adding a little ginger and rice vinegar to fried rice will give add a nice aroma and flavor.
2. Try to chop the vegetables as fine as possible…no one wants to choke on big hunks of vegetables while they are eating their meal! 🙂
3. A sharp knife is essential for chopping well.
Share our love with the world! 🙂